Project Home
NTEN
Westover
Workshops
FFCW 1997
FFCW 2001
FFCW 2002
ISIS Home
The U.S. Air Force (USAF) opened Westover Air Force Base in Chicopee, Massachusetts in 1942. The Base served as a Strategic Air Command facility from the mid-1950's into the early 1980's when its mission shifted to USAF Reserve. Today, Westover continues to operate as the world's largest Air Reserve Base and as Tactical Wing, and is one of the country's two centers for Galaxy C-5A military transport aircraft. Fifty years of military operations at Westover have created a complex set of hazardous waste sites. USAF has identified over two-dozen sites on the active Base and on nearby Formerly Used Defense Sites (FUDS) that were sold off as the Westover has downsized. (Twenty contaminated sites are shown on the Base map as shaded areas in the map below.)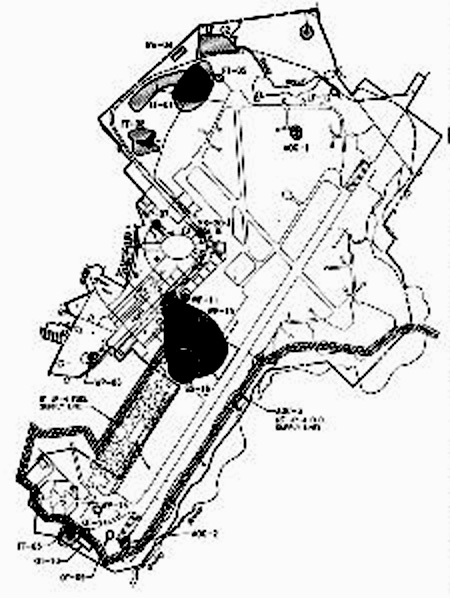 For many years, residents in surrounding communities have voiced concerns about Westover's environmental impacts through meetings, surveys, and letters to public officials. Their concerns include potential for soil and groundwater contamination, noise, health risks for residents and cleanup workers, and impacts on the environment and several endangered wildlife species. Community interests include timely and impartial data review and expanded public involvement in the decision-making processes.
Together with our collaborators in the community and Five Colleges, our project staff reviews Westover's assessments of contamination at the Base. We're also beginning to compile, data base, analyze, and map data from military and government documents, and individual stories. Our review of available historical information and physical evidence reveals that much reindexs unanswered about what contamination exists within and outside of Westover's perimeter fence. According to the military's estimates, the waste sites may threaten 21,000 people who live within one mile of the Base, Chicopee Memorial State Park and the Chicopee Reservoir (both active recreational areas for surrounding communities), underground drinking water resources, wetlands areas, and critical wildlife habitats.
The WCP works closely with Valley Citizens for a Safe Environment (VCSE), a member organization that represents citizens concerned about, and possibly affected by, toxic and noise pollution from Westover. VCSE has over 275 citizen members who are concerned about environmental issues in the Pioneer Valley. VCSE activities include monitoring of environmental problems, producing semi-annual newsletters, participation on advisory boards, letter writing, and legal action. VCSE is the primary community group interested in the environmental impacts of the Westover. ISIS works with VCSE on public involvement and technical assistance related to Westover hazardous waste sites restoration.
The WCP also works with Westover's Installation Restoration Program, performing a valuable facilitating role between the military and the concerned public. Citizen involvement in the making of cleanup decisions has improved the flow of information and trust, and has recently resulted in more productive planning meetings. ISIS sponsored a forum and Base tour in June 1994 at which 39 people, including people from U.S. Congressional offices, VCSE, and municipal planning boards, and scientists, citizens, Air Force personnel, staff and many others, learned together about Westover's cleanup sites and cleanup work. This event led to class projects directed by Smith, Hampshire, and Amherst College professors which bring new resources, perspectives, and information from the colleges to Base neighbors and the Westover. These projects also provide unique experience for student participants.
The WCP is made possible by the Technical Assistance Grant program of the Massachusetts Department of Environmental Protection, and by the contributions of private donors.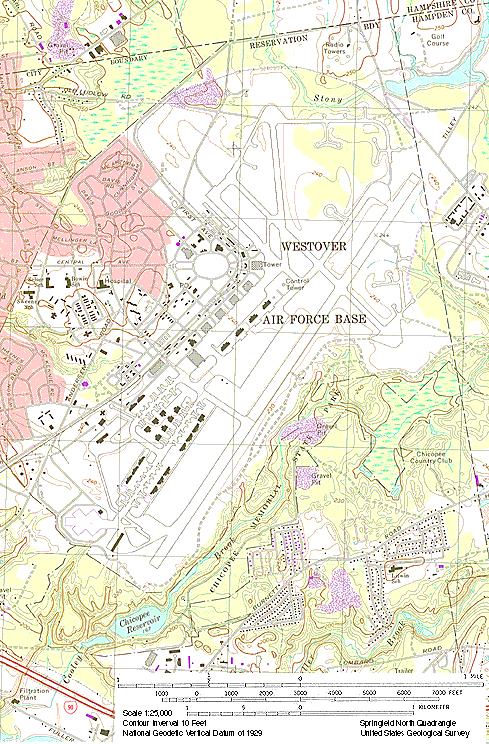 Westover Air Reserve Base Topological Map
Westover Air Reserve Base, Chicopee, Massachusetts
Largest Air Reserve Base in the world.
Operates the C-5A Galaxy, one of the largest military transport planes in the world. The air pollution generated by one single C-5A Galaxy is enormous.
Contamination problems include solvents, "general base refuse," jet fuels, degreasers, pesticides, herbicides, ashes from heat plant, oils.
Waste disposal and landfill records poorly kept or unavailable.
Vast stretches of land contaminated with Jet Fuel (JP-4) used for training and jet engine testing purposes.
There have been over 20 sites in the Installation Restoration Program since 1994.
Surface water contamination includes strong evidence of deicing compounds in Cooley Brook, which discharges into the Chicopee Reservoir, a popular recreational swimming spot.
Groundwater pollution by contaminants leaching through the ground from landfills, waste disposal sites, and fire training areas. Many residents of the base who draw their water from wells are at risk of being exposed to contaminants in the groundwater.
Efforts to monitor contaminants from a hazardous landfill are hampered by a poor understanding of the complex underground groundwater system. Westover consistently collects faulty and/or suspect data that does not support a conclusive understanding of this system. Westover's groundwater monitoring well database is unreliable and poorly organized. It is incomplete, contains errors, and disorganized.