---
BOOKS
New Ways of Knowing: The Sciences, Society, and Reconstructive Knowledge
Marcus G. Raskin, Institute for Policy Studies, and Herbert J. Bernstein, Hampshire College (contributions also from Susan Buck-Morss, Noam Chomsky, Michael Goldhaber, Edward Herman and Joseph Turner)
Although the need to limit and control our runaway technologies is widely recognized, the current debate on this subject is primarily concerned with technical questions that largely overlook the social and ethical issues at the heart of the knowledge process. Noted physicists and social scientists challenge the paradigm of scientific thinking whose applications can prove destructive to existing social systems. They shift the debate to the need for a radical change of direction that would replace traditional "value-free" inquiry and research with a knowledge model that incorporates social responsibility, democratic principles and comprehensive ethical standards. Rowman & Littlefield, 1987. Autographed new corrected edition, published by CBLS $30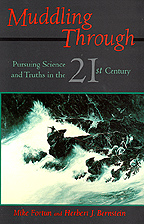 Muddling Through: Pursuing Science & Truths in the Twenty-First Century
Michael Fortun, RPI & ISIS, and Herbert J. Bernstein, Hampshire College & ISIS
For most people, understanding the sciences means familiarity with the end products of science - a new drug, a new theory of the cosmos, yet another technological advance. But the fascination with and emphasis on these end products obscures the processes that underlie every stage of scientific inquiry from the earliest posing of a question, to the application of scientific truths, to many of our most urgent and complex social problems. In their provocative, now classic, book Mike Fortun and Herbert J. Bernstein advocate a new approach to the sciences of the twenty-first century based on the processes scientists and the sciences actually follow: "muddling through," the combined operations of language, experiment and human social judgments. The authors draw on historical events, the writings of scientists and cutting-edge science to convey the complex interactions that determined how and why ideas, experiments and expert interpretations are shaped into truths that are at once messy and reliable, ambiguous and robust, incomplete and illuminating. Click here to read the book's excellent review in Physics World, the European equivalent of Physics Today, March 2000, page 47.
Counterpoint Press, 1998. Autographed hardcover. $30
---
NEWSLETTERS
Current and past issues of our newsletter, After the Fact, are available for download. So is the first issue (Summer 2000) of the new ISIS journal. They can be viewed and printed using Acrobat Reader. Printed copies are also available from the ISIS office.
Occasional Papers and Offprints
ISIS occasional papers are the work of individual authors and represent their own efforts. Opinions, analysis, interpretations, conclusions, and recommendations are those of the authors and not those of the ISIS Institute, its officers, staff, Fellows, or members.
Amherst College Geology, "Terrain Conductivity Investigation of Landfill B Leachate Plume, Westover Air Reserve Base, Massachusetts."
Frederique Apffel-Marglin, "Smallpox in Two Systems of Knowledge."
Herbert J. Bernstein, "Idols of Modern Science and the Reconstruction of Knowledge."
Michael Fortun, "Time, Busy Bodies, and the Habit of Becoming-Genetic."
Michael Fortun and S.S. Schweber, "Scientists and the Legacy of World War II: The Case of Operations Research."
Michelle M. Murrain, "Differences in Opportunistic Infection Rates in Women with AIDS."
Marcus G. Raskin, "Reconstruction and Its Knowledge Method."
Marcus G. Raskin and Herbert J. Bernstein, "Toward a Reconstructive Political Science."
Tom Roeper, "The Responsibility of Linguists."
(The occasional papers are available for $4.50 each to cover reproduction and mailing costs.)
---
Audio Tape Recordings: Seminar Transcript Series
Please call for information.
---
A somewhat outdated draft of our complete publications catalog is available for download. It includes the two books described above, seminars recordings, and occasional papers. For more information or to order, please contact us at ISIS.
Recent addition to the catalog: Randel Hanson's paper "10,000 Years of the American Century: Reflections on Official U.S. Governmental Acknowledgements Regarding Nuclear Waste," presented at the Summer 2001 Federal Facilities Cleanup Workshop. Download it here or contact ISIS to order a printed copy.
---
Publications may be ordered directly from ISIS:
Institute for Science & Interdisciplinary Studies

Hampshire College/NS

893 West Street

Amherst, MA 01002-5001

Tel. (413) 559-5582

Fax. (413) 559-5448