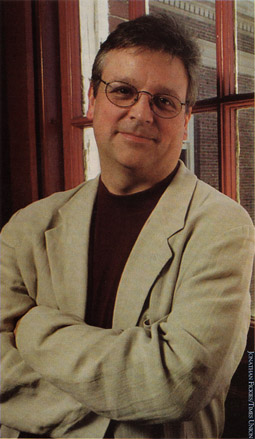 The Recoding Life Project is the domain of ISIS Founding Fellow Mike Fortun. A Harvard PhD in the history of science, Mike analyzes the changing conceptions of illness, health, and the body brought about by modern biosciences and biotechnologies, especially in human genetics. For the past several years, Mike's work has centered on the science and business of genomics, particularly in Iceland via the case of deCODE Genetics and the Icelandic health database. His article "Mediated Speculations in the Genomics Futures Markets" was published in the journal New Genetics and Society in August 2001.
Read the complete version of Mike's recent article, edited for the summer '01 issue of After the Fact and serialized starting in the fall of 2001 in GeneWatch:

Open Reading Frames
Genomics in Iceland is also the subject of his next book, currently titled Promising Genomics, which he has been writing this past year as a Member in the School of Social Science at the Institute for Advanced Study in Princeton, NJ (read more).
With ISIS President Herb Bernstein, Mike authored the central ISIS text, Muddling Through: Pursuing Science & Truths in the Twenty-First Century. He has presented papers based on his own research and other ISIS projects at numerous conferences, including the annual meetings of the American Anthropological Association and the Society for the Social Studies of Science as well as at various universities around the country.
Mike is currently a professor at Renssalear Polytechnic Institute (RPI) in Troy, NY. From his RPI bio: "He continues to be involved in building the Center for Ethics and Complex Systems at Rensselaer, and is integrating his ethnographic and empirical work on genetic databases and complex behaviors (e.g., addiction) with theoretical work on the "minor tradition" within the ethics of technoscience (Nietzsche, Levinas, Deleuze). Quantum physics remains an active side interest; his article on the physicist who experimentally measured the Casimir force of the quantum vacuum appeared in Zeroing In On the Year 2000: Late Editions 8 (University of Chicago Press, 2000.)"
Check out Mike's courses at RPI.
Read his article "Breaking the Code" in Renssalear Magazine, March 2001.
---
Much of the information and text on this page comes from the RPI website and is thus their property. ISIS thanks RPI for the reproduction and use of these pieces.