ISIS Home
Institute News
ISIS Institute History
The ISIS Mission
Staff and Board
Our Publications
Links
Contact us
Search
Projects Overview
MilWaste Program
Amazon Project
Quantum Physics
Seminars
Science Dialogue
Recoding Life
Institute Fellows
What's New:



ISIS Institute co-sponsors another in a series of conversations with refreshments
"Science, Spirituality and Political Activism: Couples Sharing their Journeys"


On the evening of May 9th in the center of Amherst, the Institute co-sponsored an inspiring talk and discussion led by two fascinating activists, Susan and René Theberge. She is professor of Sociology at Keene state University in New Hampshire. He is recently retired from medical and non-profit management, and now dedicates himself to nature photography in service of environmental causes.

This event was open to the public and free of charge; an enthusiastic crowd of over thirty participants came and joined the conversation, then partook of light refreshments after the presentation/discussion, in the Social Hall of the Jewish Community of Amherst, 742 Main Street. With co-sponsorship by the JCA's Spirituality and Social Change Interfaith Study Group this most informative and pertinent event began a new series of discussions. The first such event was part of ISIS Institute seminars dedicated to the memory of Seymour Melman. (see below, for the conversation with the husband and wife team of Kehler & Corner).

The Theberges have been long time organizers in the peace and social justice movements of the last 40 years including work with many prominent non-profit organizations, with labor unions and in communities on-the-ground. Susan is currently an Education professor at Keene State College and is active in the Buddhist Peace Fellowship, Fund Our Communities Not War, the Occupy movement and the Alliance for Peace and Justice. René is also active in Buddhist Peace Fellowship; he was the Administrative Director of the Center for Contemplative Mind in Society for five years and has served as the Associate Director of the Center for Mindfulness, UMass Medical School. Together they make a fascinating team and great discussion leaders, whose deeply committed actions and thoughts were expressed in a laid-back, open engaging style. For many this proved to be a wonderful and inspiring evening.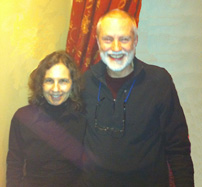 INSTITUTE PROGRAMS
Scientists -- whether or not we know it, like it, or admit it -- are agents of social change. From the first posing of a question to the appearance of new technologies and policies in society, scientists shape every part of our world. ISIS institute's diverse projects address the powerful and complex ways, whether direct or subtle, in which the sciences affect society and vice versa. Through democratic coalitions of scientists, citizens, and science analysts, the Institute is pioneering a new kind of scientific inquiry for the 21st century. Changing our world with science demands, in turn, changing the sciences themselves to meet that awesome responsibility.