Project Home
Aquaculture
Photo Essay
Exchange Report
Brochure
ATF article
Responses to Oil
Enviro Monitoring
Plan Colombia
Indigenous Rights
The Secoya People
Project History
How You Can Help
Our Funders
ISIS Publications
Links
Contact us
Search
Projects Overview
MilWaste Program
Amazon Project
Quantum Physics
Seminars
Science Dialogue
Recoding Life
ISIS Fellows
Cusco, 19 June 2001
I write from the center of the world, from Cusco, literally the navel of the (Inca) world. Cusco was the core of the Tawantinsuyo, the "four quarters of the world"* or "the union of the four regions." I am here for the closing meeting of an exchange on Amazonian aquaculture, a coming-together of experts and communities from three different areas of Amazonia, a union of three regions.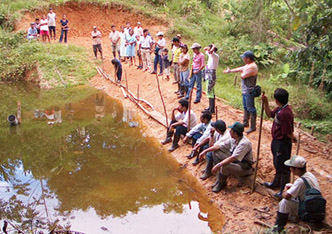 For the past two weeks I have been traveling in Peru with four Secoya fish farmers / aquaculture promoters, along with ISIS consultant Marco Silva, first in the region of Iquitos, where the Maraņon and Ucayali rivers become the Amazon, and then along the Alta Urubamba river valley north of Cusco, in the upper Amazon. We have been visiting families and communities experimenting with fish farming and learning about the efforts of our Peruvian counterparts (Minga Peru in Iquitos and ASPRODE in the Alta Urubamba) to build sustainable Amazonian aquaculture.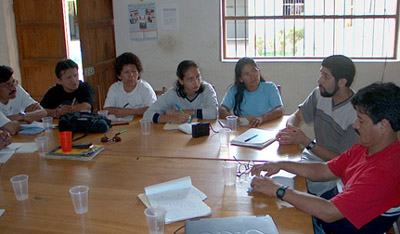 This is the second part of an exchange that began in February when representatives of Minga Peru and ASPRODE, and of the communities with whom they work, visited Secoya territory on the Aguarico River in Ecuador. Funded by Oxfam America and the Food Industry Crusade Against Hunger, the exchange was designed to allow isolated communities with similar goals learn from one another and to get the partner organizations to open up our projects to one another to learn, critique, and improve not just technical methodologies but also the organization of our projects, relationships between NGO and community, and so on.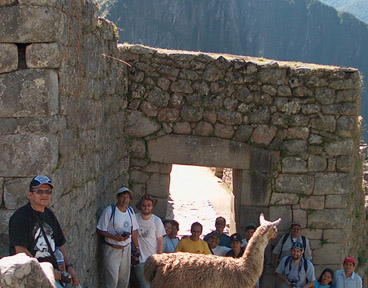 High in the Andes, Cusco may seem a strange place to end an exploration of Amazonian aquaculture, but there are good principles to justify the prosaic logistical reasons that brought us here. Although the Spanish conquest deprived the world of the opportunity to see how sustainable Inca culture really was, Inca society was organized in ways that offer important lessons in ecological planning. For example, in this region so poor in arable lands, cities were build on high rocky areas to leave fertile valleys free for agriculture. (How different from the Connecticut River valley where I live and work, where a small mountain-side development in Hadley, Massachusetts stimulated large protests in a way that the steady conversion of fertile farm land to suburbs throughout the area has never done!)
The Inca used their highways and complex social organization to transport guano from the coast to fertilize those famous terraces which of course were designed to allow cultivation of steep slopes without destructive erosion. Unlike those who came after them, they regulated the use of guano, so that, even though they used thousands of tons annually, it was harvested at a rate that didn't exceed its accumulation and therefore the resource was maintained.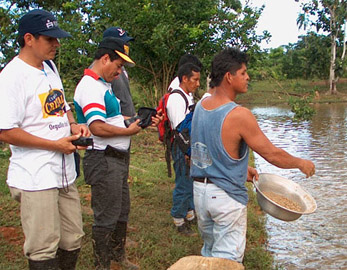 The indigenous groups participating in the intercambio (Secoyas from Ecuador, Cocamas on the Maraņon river in Peru, and Machiguengas of Peru's upper Amazon), were never under the influence of the Inca, but they have their own traditions of environmental management. The Amazonian aquaculture that we have gathered to discuss draws on similar principles of sustainability both from within these cultures and from the wider cosmopolitan culture where the NGOs reside. Along the Alta Urubamba, we saw fish raised in conjunction with ducks and guinea pigs, with the manure from these other animals fertilizing ponds to spur the growth of foods for the fish in them. Near Iquitos, Minga Peru showed us gardens of young rainforest trees that their partners plan to plant around fish ponds to provide cover as well as food for the fish.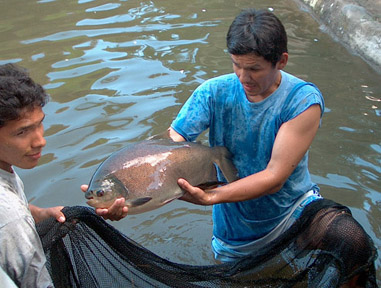 As well as sharing the innovations, we are identifying the weaknesses and risks of aquaculture to try to eliminate them from the models we are developing. Around Iquitos many aquaculture projects (distinct from those Minga Peru is developing) rely on stocking ponds with fish collected in the river. Full of fish as the Amazon is, this is clearly not a sustainable activity. In February, ISIS shared our experiences with native fish species that produce naturally in fish ponds (primarily cichlids, fish adapted to the quiet waters of lakes). A few fish from a single collection provide an on-going and growing resource for aquaculturists, as we have demonstrated, and eliminate demand for wild-caught fish. As we visit in Peru we have been building a growing list of native Amazonian species appropriate for this sort of aquaculture.
In the coming months ISIS will prepare, with Minga Peru and ASPRODE, a report on small scale Amazonian aquaculture, with topics ranging from the impact of terrain on aquaculture (relatively unimportant) to the role of the local promoter (a key to success) and from selection of species to gender roles in aquaculture. No doubt we will share some of the highlights on this webpage. In the meanitime, here are a few images from our days in Peru.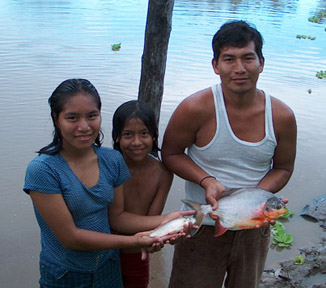 Saludos
Jim Oldham
* This translation and other facts about Inca culture in this letter come from Ronald Wright's Cut Stones and Crossroads: A Journey in Peru (Penguin, 1994), which my brother kindly loaned me prior to my trip.